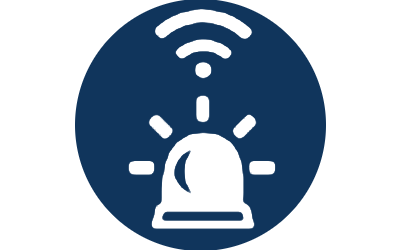 Today, it is imperative that building owners, architects, specifiers, and MEP engineers understand the recent additions to the International Fire Code (IFC) and National Fire Protection Association (NFPA) for in-building Emergency Responder Radio Coverage (ERRC). These new fire codes were added to ensure that First Responders can reliably use their 2–way radios from anywhere in a building. For new construction, this is a requirement in order to receive a Certificate of Occupancy. For existing buildings, the Fire Marshal can provide a window of time to meet this new requirement.
Today there are over 5.6 million buildings in the US and according to the International Association of Fire Chief, a large percentage of buildings have not been tested to ensure critical 2-way wireless radio communication can happen. That means in the event of an in-building emergency like a fire, assault, an accident, or health emergency, 1st responders who enter the building may be cut off from talking to each other or the command center which could result in loss of life, property and harm to 1st responders.
How can you be assured that your building meets the new emergency responder radio signal standards?
Have your building tested by a Public Safety DAS or Emergency Responder Radio Coverage (ERRC) systems integrator (see www.ibtconnect.com).
IBT Connect will work with your local jurisdiction to find out: 1) the emergency broadcast frequencies used by the jurisdiction, 2) signal coverage standards (square feet and signal strength dBm).
IBT will then perform a site-survey using a spectrum analyzer or radios from the jurisdiction.
Results: Test results are provided to the building owner and the jurisdiction. If the building passes, a certificate is issued showing that the building meets code. If the building fails, the building owner is responsible for installing an Emergency Responder Radio Coverage System (aka Public Safety DAS).
Mitigate your risk…don't wait for an actual emergency to find out if your building blocks first responder radio signals and does not meet code. We all would like to be interviewed on the 5 o'clock news—but not for the wrong reasons.
For more information, contact IBT Connect www.ibtconnect.com 972.947.5801 or Raul Guerra at 214-208-8022.